i was so, so, so thrilled that kate winslet won the oscar sunday night. i watched in a bit of a stupor, as i had returned from the journey men's retreat only a few hours before that, and the academy awards is a long show. (this year's, by the way, was one of the best ever - the production design, the way the acting awards were presented, hugh jackman as host, etc. So, that helped me stay awake. but barely.)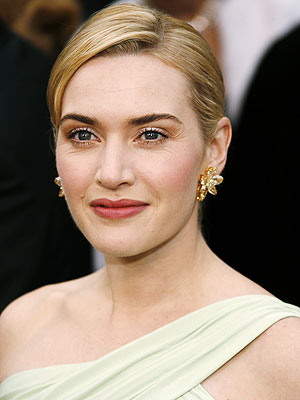 but kate winslet - heavens. just perfection in "the reader." even though melissa leo was strong and powerful in "frozen river," and anne hathaway was brilliant and scary in "rachel getting married," and angelina jolie was strong and not-very-movie-glamory in "changeling" and meryl streep is - well - meryl streep, kate winslet is an actor who can do about a zillion things, and in all of them, radiate vulnerability and hope and loss and complexity all at once.
look at her other oscar-nominated performances, all of them different, all of them complicated, all of them powerful:
"sense and sensibility"
"titanic"
"iris"
"eternal sunshine of the spotless mind"
"little children"
and now - "the reader." and that's not counting the roles for which she's won other awards, including this year's "revolutionary road," which i just haven't been able to make myself watch yet. "finding neverland." "quills."
yeah, i've got a big crush on her - which is entirely sanctioned by my wife. and a bit shared by my wife, actually. although my wife's girl-crush is natalie portman.
let's all accept it: kate winslet is the total shit.
David Edelstein
of
New York Magazine
hails her as "the best English-speaking film actress of her generation."
here is the
hilarious video of kate winslet on "extras"
...